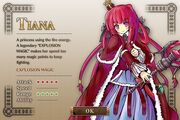 Game Information
Tiana is a princess using the fire energy. Her legendary Explosion magic makes her spend so much energy that she cannot spell it multiply times in a row.
Personaltiy
Tiana is a princess. It seemes she likes to have tea.
Other information
MP request to summon : 400.
MP request to upgrade : 400(First), 600(Second), 1000(Max).
MP get when release : 320(Level 1), 640(Level 2), 1120(Level 3), 1920(Level 4).
Magic detail
Name : Explosion Magic
Attack : ★ ★ ★ ★ ★
Speed : --
Range : ★ ★ ★ ★ ★
Ability : Damage Over Time and attack all foes in range at one time. Need cool down before using magic again. Need user command to attack.
Element : Fire
Best Damage : Shelder, Snowm and Eely
Quotes
Summon: "I show you power, alright?"
Upgrade: "Burning fire, come forth to me!"
Unselect: "Is it snack time?"
Release: "Wait! Are you kicking me out?!"
Ability use: "Explosion!"
Stage clear: "The world is mine!"
Ad blocker interference detected!
Wikia is a free-to-use site that makes money from advertising. We have a modified experience for viewers using ad blockers

Wikia is not accessible if you've made further modifications. Remove the custom ad blocker rule(s) and the page will load as expected.