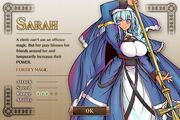 Game Information
A cleric who can't use offense magic, but her prayer blesses her friends around her and temporarily increase their magic POWER.
Abilities
Sarah provides a boost to the allies surrounding her, increasing their damage output without affecting other stats. The number of allies affected and amount of power increased by scale as she levels up.
At level one, Sarah provides a 20% boost to the 8 spaces immediately surrounding her, forming a box shape:  
XXX
XSX
XXX

At level two, the power increases to 25%, and the range increases by an additional 12 spaces, directly adjacent to the the original 8.
 XXX 
XXXXX
XXSXX
XXXXX
 XXX

At level three, the range increases by an additional 16 spaces. The estimated total power increase at this point is around 33%.
  XXX
 XXXXX 
XXXXXXX
XXXSXXX
XXXXXXX
 XXXXX
  XXX

At level four, the range increases by 8 more spaces. The estimated total power increase at this point is around 50%. 
 XXXXX
XXXXXXX 
XXXXXXX
XXXSXXX
XXXXXXX
XXXXXXX
 XXXXX

It is usually better to place Sarah in a high traffic area that has already developed rather than to try and build around her from the beginning. While rarely cost-effective at level one, Sarah can quickly become an asset for your damage dealers at higher levels.
Personality
It seems that she is a kind-hearted person to help her friends. She is a nun. 
Other information
MP request to summon : 400.
MP request to upgrade : 400(First), 600(Second), 1,000(Max).
MP get when release : 320(Level 1), 640(Level 2), 1,120(Level 3), 1,920(Level 4).
Magic detail : Boost other witches in her range.
Magic detail
Name: Fortify Magic
Attack : --
Speed : --
Range : ★ ★ ★ ☆ ☆
Ability : --
Element : --
Best Damage : --
Quotes
Summon: "Gather round, now!"
Upgrade: "Enhance their abilities!"
Unselect: "I can handle more than this."
Release: "You will regret this."
Stage clear: "Time for a nice, warm bath!"
Ad blocker interference detected!
Wikia is a free-to-use site that makes money from advertising. We have a modified experience for viewers using ad blockers

Wikia is not accessible if you've made further modifications. Remove the custom ad blocker rule(s) and the page will load as expected.