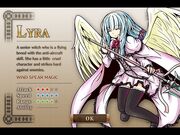 Game Information
Lyra is a senior witch who is a flying breed with the anti-aircraft skill. She has a little cruel personality and strikes hard against enemies.
Personality
Because it is stated that she has a slightly cruel personality, it is hinted that she enjoys pulling cruel antics and pranks. She is very strong, but can be gentle we needed. She's not very shy and doesn't get embarrased easily.
Other Information
MP request to summon: 540.
MP request to upgrade: 540(First), 810(Second), 1350(Max).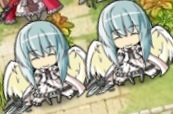 MP get when release: 432(Level 1), 864(Level 2), 1512(Level 3), 2592(Level 4).
Magic detail
Name: Wind Spear Magic
Attack : ★ ★ ★ ☆ ☆
Speed : ★ ★ ★ ★ ★
Range : ★ ★ ★ ★ ☆
Ability: Attack flying enemies only
Element : Wind
Best Damage : BC, Vampy and Dragony
Quotes
Summon: "Let me fly to my heart's content!"
Upgrade: "Wind! Be my wing!"
Unselect: "I'm busy right now!"
Release: "This is all your fault!"
Stage clear: "It's not enough for me."
Ad blocker interference detected!
Wikia is a free-to-use site that makes money from advertising. We have a modified experience for viewers using ad blockers

Wikia is not accessible if you've made further modifications. Remove the custom ad blocker rule(s) and the page will load as expected.