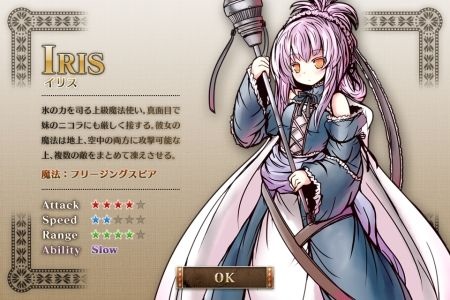 Game Information
A senior witch using the ice energy. Iris is Nicolas's older sister. Her ice magic freezes multiple targets. Iris can attack enemies in the air or the ground.
Personality
Iris is of a serious cast, even on her little sister Nicola. Iris is known to be a little harsh on everyone. She is tough but knows when to care for someone or something.
Other Information
MP request to summon: 660.
MP request to upgrade: 660(First), 990(Second), 1650(Max).
MP get when release: 528(Level 1), 1056(Level 2), 1848(Level 3), 3168(Level 4).
Magic detail
Name: Freezing Spear Magic
Attack : ★ ★ ★ ★ ☆
Speed : ★ ★ ☆ ☆ ☆
Range : ★ ★ ★ ☆ ☆
Ability: Slow (Iris can also attack ground enemies and flying enemies, but not at the same time.) Different from Nicola, her ability will effect to near foes from a target too.
Element: Ice
Best Damage : Shelder, Fley and Eely
Quotes
Summon: "I'll put you on ice."
Upgrade: "Undines, follow me!"
Unselect: "Are you worried about me?"
Release: "Farewell."
Stage clear: "Now... I can sleep peacefully."