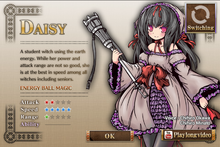 Daisy (super) is a superordinate form of Daisy that is unlocked by finishing Bingo. It is a more powerful version of Daisy.
Summon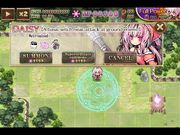 In order to summon her, you need:
to unlock her in the bingo
to have "confirm when you summon a unit" setting on
Summoning details
MP request to summon : 180.
MP request to upgrade : 180(First), 270(Second), 420(Max).
MP get when release : 148(Level 1), 276(Level 2), 468(Level 3), 788(Level 4).
Other information
Her attack range is equivalent to a daisy upgraded to level 3. Her attack damage and attack speed however, are equal to a level 1 daisy.
Super Daisy's attack range does not increase as she levels until she reaches her third upgrade. Her attack speed and damage however do increase.
Ad blocker interference detected!
Wikia is a free-to-use site that makes money from advertising. We have a modified experience for viewers using ad blockers

Wikia is not accessible if you've made further modifications. Remove the custom ad blocker rule(s) and the page will load as expected.