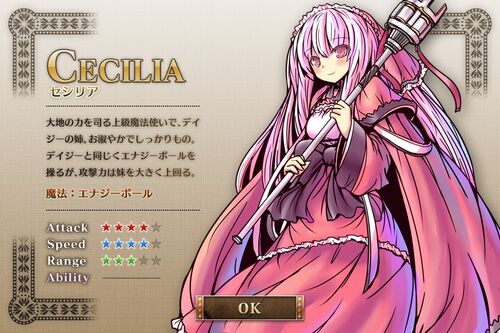 Game Information
A senior witch using the earth's energy. She is Daisy's older sister. Cecilia's energy ball magic largely surpasses Daisy's energy ball magic.
Personality
Cecilia is very polite. She has an adult and ladylike character. She is never mean toward her little sister, Daisy, or any of her friends. Cecilia is very kind and caring.
Other information
MP request to summon : 480.
MP request to upgrade : 480(First), 720(Second), 1200(Max).
MP get when release : 384(Level 1), 768(Level 2), 1344(Level 3), 2304(Level 4).
Magic detail
Name : Energy ball magic
Attack : ★ ★ ★ ★ ☆
Speed : ★ ★ ★ ★ ☆
Range : ★ ★ ★ ☆ ☆
Ability : --
Element : --
Best Damage : Egger, Pinky and Cornet
Quotes
Summon: "The battle's just beginning."
Upgrade: "Shine now, holy light!"
Full power II: "Look at all the light!"
Unselect: "No need to worry."
Release: "See you later."
Stage clear: "We made it thanks to you!"
Ad blocker interference detected!
Wikia is a free-to-use site that makes money from advertising. We have a modified experience for viewers using ad blockers

Wikia is not accessible if you've made further modifications. Remove the custom ad blocker rule(s) and the page will load as expected.